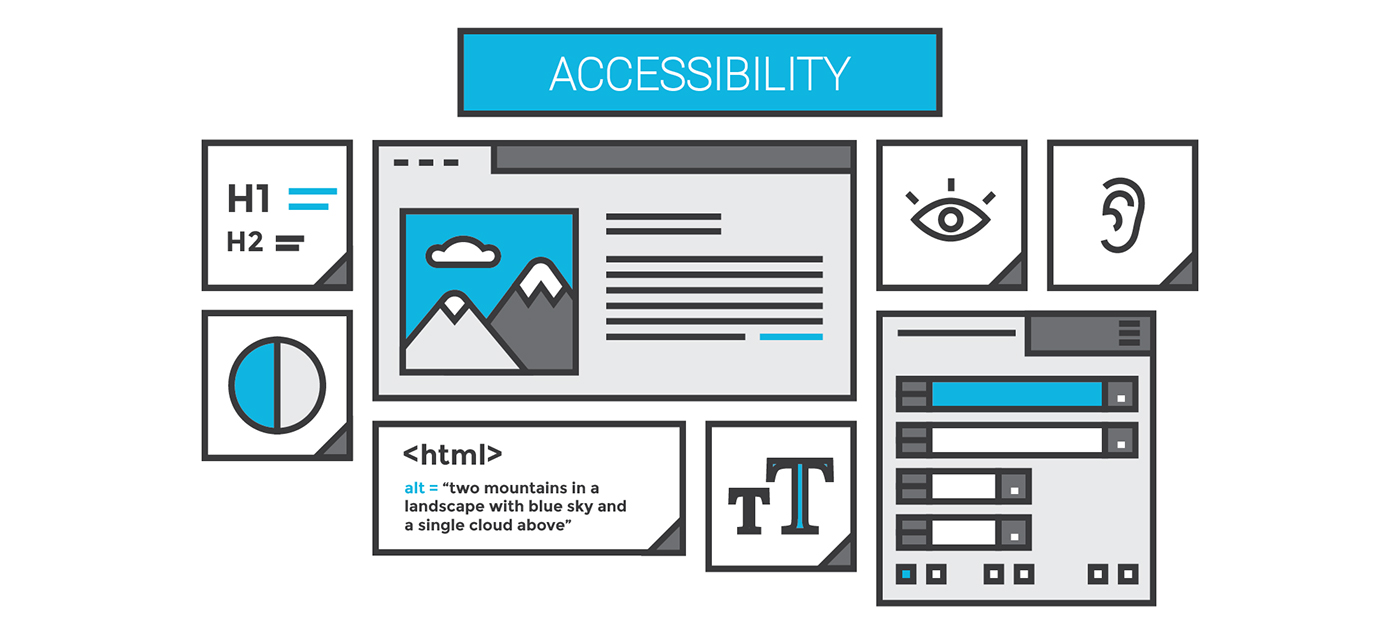 Colour and Contrast
Colour is used by designers in some cases to bring hierarchy to content or to bring focus. For accessibility colour should be used to highlight or complement what is already visible, it shouldn't be the only indicator. A defining factor with colour in accesibility is contrast. Contrast is key. To ensure readability for users with low vision contrast is needed, which is determined by text size and how easily letterforms can be distinguished in a particular font. The contrast ratio between text and a text's background should be at least 4.5 to 1. To test if your website has enough text contrast there are plenty of online checkers.

Size and Typeface
Another key to ensuring that a user has readability of your content is giving them the option of customisation. A sites content shouldnt rely on specific fonts or sizes for the information to be perceivable. Avoid large blocks of text, give the user the option to increase typeface size, Provide enough space between lines of text, use clear, easy-to-read typefaces, and stick to one or two fonts.
Content
From text-based content to the imagery, all content should be perceivable by all users. Every image should have ALT text. This ALT text should convey the important information in the Label images and graphics with clear text descriptions. For text content it should use plain language that is written for your audience. Your Sentences and paragraphs should be formatted so that they can be easily scanned and any interactive elements such as links should be clearly identified (either by a simple underline or written instructions)

Operable Navigation
Along with the asthetics of the site it should also be operable by all users. Users must be able to manipulate the interface and navigation components, regardless of how they operate their computers. Below are some quick tips to help your site be more operable through navigation.
- Ensure that interactive elements are easy to distinguish from other elements. Use underlines, colour, descriptions and tooltips to distinguish active links and buttons; don't rely on only one way to convey information.
-If there are tables, include a text-format alternative. In your HTML, tag all titles and headings, large or small – this makes it easier for people using screen readers to navigate pages quickly and effectively.
- Ensure your site is functional through just the keyboard. The TAB key moves between links and image map areas in the order they are defined in the HTML. It must move from left to right and top to bottom. In some case you can even provide a visual indentifier to show keyboard focus, this can be done through the default focus or with the addition of colour and a tooltip.